City Avenue hotel completes $15M rebrand into 'hybrid' Marriott
Kenneth Hilario



Reporter, Philadelphia Business Journal



A City Avenue hotel has completed its $15 million renovation that turned it into a Marriott product with the "latest and greatest standards."


The 333-room Crowne Plaza Philadelphia West at 4010 City Ave. has completed its rebranding into the Courtyard by Marriott Philadelphia City Avenue, a product of Marriott International Inc.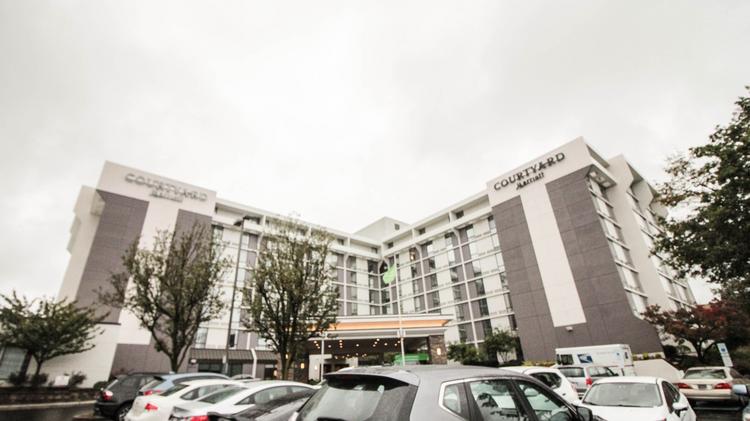 The extensive $15 million renovation began last December, and the makeover included changes to the exterior, a warmer and more natural color scheme throughout the interior, and updates to technology, the lobby, restaurant, the pool building in the back, and all 333 rooms and their entry systems.


Since it recently completed its renovation, it has the "latest and greatest standards," said co-owner Gary S. Brandeis, which includes Courtyard by Marriott's new logo that dropped the green color scheme and gold trees.


The designs that had remnants of the "early 80s" were done away with to change the perception of the property and bring it to the 21st century, Brandeis said.

Brandeis and General Manager Addy Maini said the rebranding and renovations have attracted more corporate consideration and more guests due to brand loyalty.

The City Avenue hotel is a hybrid of sorts. The Crowne Plaza product was a full-service hotel with meeting space, while the Courtyard concept is a limited-service product.
The hotel maintained the meeting spaces — now dubbed the Fairmount Ballroom & Meeting Center — since there is heavy demand for it in the region.

This is the hotel's second rebranding since it was built in 1982. It converted from a Holiday Inn to the Crowne Plaza in 2009, yet still featured some outdated fixtures, including the carpeting and hotel room doors.

The transformation of the hotel into a Courtyard strengthens Marriott's footprint in the region, joining the more than 70 hotels already under Marriott's lineup in the Philadelphia area. The Courtyard Philadelphia at the Navy Yard will also undergo a renovation that will add about 40 more guest rooms.



Full article here.